Pan 3D
PG, Family, 111 min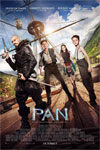 Pan 3D Trailer
The origin of Peter Pan (Levi Miller) and how he came to Neverland. Set during WWII, it follows the story of Peter, who has an absentee mother and lives in an orphanage. One night, all the boys in the home are kidnapped by pirates in a flying ship and brought to Neverland to work as slaves.
Because Peter wears the necklace of Pan, which denotes the bravest warrior in Tiger Lily's (Rooney Mara) tribe, it's deemed he's destined to save the land from the pirate Blackbeard (Hugh Jackman). Along the way Peter forms a bond with James Hook (Garrett Hedlund), who helps him on his mission.
Just for Laughs presents The Nasty Show
R, Comedy, 74 min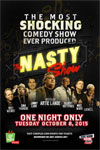 The Who: Live in Hyde Park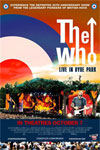 Mission to Lars
PG, Documentary, 74 min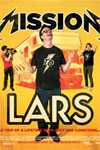 Mission to Lars Trailer
Kate and Will Spicer's brother, Tom, has Fragile X Syndrome, the most common form of inherited learning disability. He is also a massive fan of Lars Ulrich from Metallica. They made a promise to Tom that they would get him to meet Lars. Tom's dream is their promise. Together they went on a Mission to Lars.
Roger Waters The Wall
Documentary,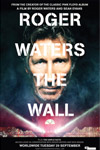 Roger Waters The Wall Trailer
Roger Waters, co-founder and principal songwriter of Pink Floyd, fuses the epic and the personal in ROGER WATERS THE WALL, a concert film that goes well beyond the stage. Based on the groundbreaking concept album, ROGER WATERS THE WALL could be called a concept film: it's a state-of-the-art show that dazzles the senses, combined with an intensely personal road trip that deals with the loss Roger has felt throughout his life due to war.
On stage and now on film, Waters has channelled his convictions into his art and his music. With ROGER WATERS THE WALL, Waters – together with his fellow musicians and his creative collaborators – brings audiences an exultant ride of a rock and roll concert, and delivers an unforgettable, deeply emotional experience.
Coming to cinemas worldwide on Tuesday 29 September, including The Simple Facts, an exclusive in-conversation between Nick Mason and Roger Waters.
Hotel Transylvania 2
G, Family, 89 min
Hotel Transylvania 2 Trailer
Dracula (Adam Sandler), worried that his adorable human/vampire grandson Dennis isn't showing signs of being a vampire, enlists his friends to put Dennis through a "monster-in-training" boot camp. But little do they know that Drac's grumpy, old school dad Vlad (Mel Brooks) is about to pay a family visit to the hotel... and when he finds out that his great-grandson is not a pure blood—and that humans are now welcome at Hotel Transylvania—things are going to get batty!
Maze Runner: The Scorch Trials
PG, Action, 131 min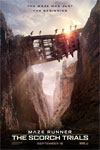 Maze Runner: The Scorch Trials Trailer
Now that the Maze trials are over and considered a success, Phase 2 begins: The Scorch.
Thomas (Dylan O'Brien) and the others find out that they were not the only maze in existence, full of young people being tested. He begins to suspect that they never escaped the maze, and that they're still captives.
They escape the facility where they're being held, but face an even more treacherous challenge on the open roads of a devastated planet.
The Visit
PG, Thriller, 94 min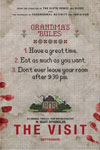 The Visit Trailer
A single mother (Kathryn Hahn) sends her two young children for a week-long visit with their grandparents (Deanna Dunagan, Peter McRobbie) at their secluded farm in Pennsylvania, but things take a terrifying turn when the children discover their grandparents are part of something deeply disturbing.
Things begin to go very wrong and the chances of them returning home get further away with each passing day.